ISeeYouCare, Inc.'s Smart Health Card is designed according to NIST standards and the parameters established by the Smart Card Alliance (now called the "Secure Technology Alliance". This design exceeds those of other formats, such as magnetic strip cards or barcode cards. The Smart Health Card value exceeds those other formats for a variety of reasons.
In it's 2015 report on Smart Health Cards, the GAO reported that the smart format outperformed the other formats in terms of authentication and storing and exchanging medical information. All formats performed equally in regards to conveying identity and insurance information.
Basis of Smart Health Card Value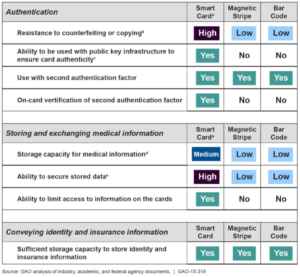 In regards to authentication, the Smart Card receives high marks in its ability to resist counterfeiting and copying. This is largely due to the embedded chip technology that is resident on the smart card. It also has the ability to use PKI (Public Key Infrastructure) to ensure card authenticity. And, while other formats could support a second authentication factor, only the smart card could provide on-card verification of that second factor.
In regards to storing and exchanging medical information, the smart health card also received high marks. It scores a medium on storage capacity, as compared to "lows" for other formats. However, ISeeYouCare has patented a formula for compressing all structured data onto the 128kb chip of the smart card. Most importantly, the smart card receives high marks for its ability to secure stored data. Security is of paramount importance, since our card stores a full lifetime personal health record for the patient. Additionally, only the smart card format is able to limit access to information. Again, this is a feature that is only available because of the embedded chip that is part of the smart card design.
For these reasons, and many more, ISeeYouCare chose the smart card as the platform for our smart health card product. The Smart Health Card value is well apparent in comparisons to other formats.
For more information on our smart health card, please contact us.