The eDoc® Telemedicine / EHR platform is a fully-functioning telemedicine suite with a robust healthcare cart and an integrated Electronic Health Record system.  In fact, ISeeYouCare was the first Telemedicine Solution Provider to have achieved ONC-ATB certification for Meaningful Use in connection with: Medicare EHR Incentive Program; Medicaid EHR Incentive Program; Physicians Quality Reporting Program (PQRS).
ISeeYouCare's EHR goes beyond the norm of EHR's and has interoperability built into it from the beginning.  It can interact with any certified EHR platform (such as Epic, Cerner and AllScripts), and provides bi-directional feeds to them.  This capability is provided through our My eMHR Personal Health Record platform, which serves as the core of all of our technologies.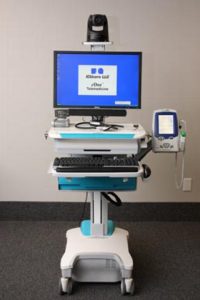 The Telehealth Suite of Products features include a full compliment of standard medical device interfaces and supports live streaming video conferencing (telemedicine) as well as store and forward capabilities. Additionally, the solution provides multiple features like security, scheduling, forms and files data entry, image view/operation/manipulation support, offline data transfer within the deployment or such other deployments outside, and much more.  The system includes all the medical equipment required for a general routine medical examination to include; Blue Tooth Electronic Stethoscope, Iris Video Scope, Otto Video Scope, General Examination Video Camera and a Vital Sign Monitor system featuring NIBP, HR, SPo2 and Nellcor Temperature.
All equipment is integrated into the proprietary eDoc® Telemedicine/EHR and Video Conferencing Software Program.  The platformm supports both Patient/Care Provider on one end and Doctor(s) and/or multiple Specialists on the remote end of the consult. The eDoc® Telemedicine/EHR System supports either Store and Forward or Live Video Conferencing Consultations. If that's not enough, "that's only the beginning"! Customers can order optional medical equipment as required to provide a complete "medical clinic on wheels".  The product includes: 12-Lead ECG System, 18-Lead EEG System, Spirometer and various types of Ultrasound Scanners. The purchase and use of this turn-key system by eligible care providers qualifies the user to incentives as associated with the ARRA Medicare and Medicaid Meaningful Use Program.
The eDoc® eMHR (Electronic Medical Health Record) HIPAA-Compliant solution enables care providers to manage patient flow, immediately access patient records in-house or remotely, electronically communicate with the referring physicians and securely send consult notes and clinical data. Using eDoc® eMHR, care providers are able to monitor and better manage care for patients, promote patient safety while reducing costs, and improve overall patient health because of better continuity and coordination in patient care.
Unique Differentiators
The solution has unique clinical support capabilities including, "Isabel".  Isabel is an FDA approved differential diagnosis system, certified at 95.1% accurate. This feature alone is a substantial development that is sure to elevate the quality of care that a patient receives. In addition, it supports one of the driving objectives of ISeeYouCare; the development of knowledge-based systems that permit non-licensed physicians (PA's, NP's and RN's) to be utilized to a greater degree.  This helps to mitigate the loss of so many of our seasoned physicians.
This uniquely designed integrated eHealth Solution is patient-centered and yet, physician friendly.  It provides the ability to work from anywhere with patients everywhere thus expanding the reach of your practice. Connect with patients; consult with physicians from anywhere 24/7. Your patients benefit from use of the MyeMHR Patient Portal in that it's capable of being populated with medical data from disparate systems. The eDoc® Telemedicine/EHR, the world's first "Total" eHealth Solution.
Most EHRs are designed for hospital administrators.  As much as 80% of their functionality are administrative.  Our EHR is patient-centric, yet physician-friendly.  By maintaining interoperability with all certified EHR platforms, we easily fit into any application and integrate with your existing systems.  We make all of our solutions available on a subscription basis.  They are accessible from anywhere.  We finance your equipment in order to reduce capital expenditures and run the program out of your operations budget.
We empower healthcare professionals to make informed decisions with access to real-time information.  Therefore, our solutions have helped customers work smarter and more efficiently.  We provide the right information at the right place and the right time.